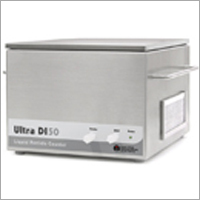 Particle Counter
Product Description
Particle Counting

Aimil Ltd., offers a wide range of Particle Counting products
Lasair® III Particle Counter-The Lasair® III particle counter has set new standard for aerosol particle counters.Varous applications include Particle counting trend analysis, Statistical process control, Troubleshooting particle excursions
Handilaz® Mini - It is used for detecting local particle sources, Dust monitoring, Portable particle counting, Filter testing and leak detection
Liquid Particle Counter APSS 2000
Airnet®II Particle Sensor- It is easy and cost-effective particle counter used to simultaneously monitor particles from multiple locations.
IsoAir® Particle Sensor - This particle counter is simple to install with unparalleled performance. A chemically resistant, easy-to-disinfect stainless steel box.
LiQuilaz-A particle counter that provides continuous, real-time monitoring of particle levels in Class I, Div II environments.
Minicapt Protable Microbial Sampler - enables an operator to collect biocontamination samples throughout cleanrooms and clean air devices.
BioLaz Real-Time Microbial Monitor - provides real-time detection of biological organisms in controlled environments used for the manufacture of sterile products.
Pharmaceutical Net - It is a powerful software program that provides a comprehensive view of the particle, environmental and process monitoring conditions. It enables an operator to collect, display, analyze, store and report data form a network of monitoring instrumentation.
Facility Pro - The FacilityPro syatem enables automated simultaneous microbial (viable) and particle (non-viable) air sampling of up to 32 independent locations. System monitoring and control is achieved through the iFix-based SCADA software or by other configured SCADA software.
Contact Us
A-8, "Naimex House", Mohan Co-Operative Industrial Estate, Mathura Road New Delhi Delhi India +918037263555
Phone :+918037263555