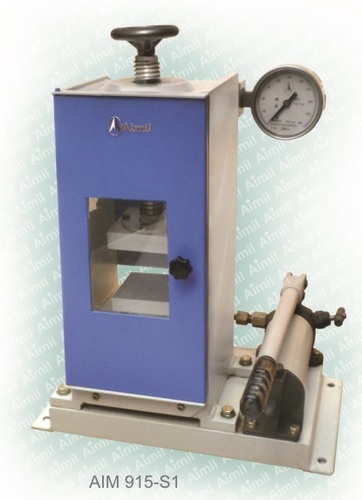 Hydraulic Press
Product Description
Used for making pallets of graphite or Infra Red transmitting materials. For elemental analysis of Cements, Slags or Refractories by X-ray Fluorescence or Emission Spectromerty, the samples are mixed with graphite powder and pallets are made in the Hydraulic Press, compressing at desired pressures. The pallets are suitable for placing in the analyzing instruments. Similarly, in the analysis of samples in the powder form by the Infra Red Spectrophotometers, these are mixed with Sodium Chloride or IR
transmitting materials, pallets made as above and placed in the instruments for analysis.
The Hydraulic Press is a portable bench model and can be used on a sturdy table top. It is fitted with a load measuring gauge calibrated for 0 - 250 kN and also fitted with a pressure release valve for removing pallets. Dies for different pallet sizes and corresponding sample ejectors can be supplied as per requirement at extra cost.
Contact Us
A-8, "Naimex House", Mohan Co-Operative Industrial Estate, Mathura Road New Delhi Delhi India +918037263555
Phone :+918037263555